Back
Musculoskeletal Disorders (MSD)
Definition Musculoskeletal Disorders (MSD)
MSDs (Musculoskeletal Disorders), also known as periarticular disorders, hyper-stress pathologies or Repetitive Strain Injuries (RSI), cover a wide range of conditions affecting soft tissues (muscles, tendons, nerves, vessels, cartilage) and mainly result in pain and functional discomfort, often on a daily basis. MSDs result from an imbalance between biomechanical demands and the functional capacities of the operator.  
Risk Factors Musculoskeletal Disorders (MSD)
MSDs are the result of the action of several risk factors: 
biomechanical factors (repetitive gestures, uncomfortable postures, excessive physical effort, static work, etc.).

 

environmental factors (shocks, vibrations, cold, etc.)

 

organizational factors (lack of breaks, lack of 

rotation

 between tasks, excessive working hours, etc.).

 

psychosocial factors (monotony, professional stress, etc.)

 

individual factors (age, obesity, smoking, personal history, general health status, etc.).

 
All these factors act simultaneously and contribute to the development of the pathology. Unfortunately, the current state of scientific knowledge does not allow defining the weight of each factor, nor the effects of each on the other. Therefore, the principle of MSD prevention is to limit exposure to known occupational factors to the bare minimum. 
Some figures in 
France
In France, MSDs mainly affect three areas of the body:  
upper limbs (90%),

 

the back (7%),

 

lower limbs (2%).

 
Among the upper limbs, it is the wrists that are the most affected (38%, including nearly ¾ related to carpal tunnel syndrome). Then come the shoulders (30%) and elbows (22%) (source AMELI).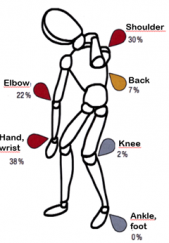 Musculoskeletal disorders account for 87% of occupational illnesses and 20% of work-related accidents (2.2 billion euros charged to French companies in 2016), which, in addition to the human cost, generate the loss of 7.4 million working days. 43,000 people are treated each year for MSDs. The average cost of an MSD is €21,000, not counting the 200 days of work stoppage on average. 
The economic cost of MSDs is not limited to direct costs (compensation, case management time, job accommodation) for the company. These are estimated between 100 and 500€/year/employee affected or not by an MSD. In addition, there are indirect costs such as loss of productivity, deteriorated equipment, delivery delays, replacement of sick people (5 to 10 times higher than the direct cost) as well as strategic costs, not to mention the human cost (personal suffering for many employees).